KYP patient admission platform
Online admission solution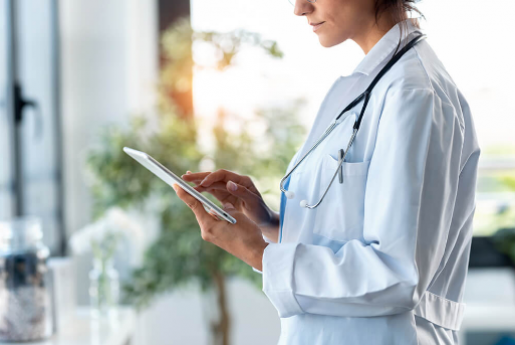 Simplify, secure and streamline admissions
The KYP solution, Know your Patient, facilitates the remote admission of patients,
while ensuring the security of their data.
KYP mobilizes artificial intelligence technology from recognition of images from simple photos of administrative documents taken by the patient and placed on the portal via a smartphone or computer. Its interoperability makes it possible to integrate all of its data into the information system of the healthcare establishment.
Know your patient
Simplified admissions for patients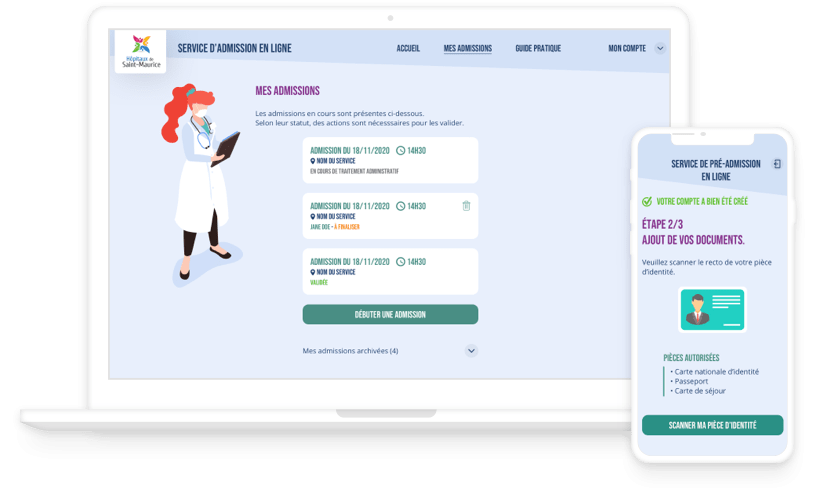 For establishments:
Time saving for hospital staff
Improved identity vigilance
and the completeness of the files
Secure and reliable transmission
and data collection
Billing reliability
For patients:
Time saving
Simplification of registration procedures
Decreased risk of exposure
Key figures
The reality on the ground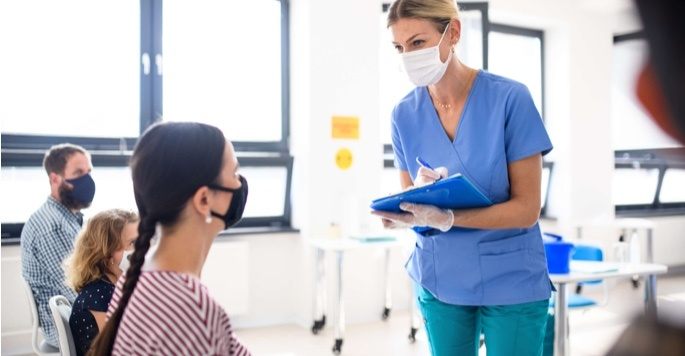 are admitted on the 8 am-11am and 13 pm-15pm slots. Admissions officers are subject to peaks of activity involving errors and omissions.
of outstanding charges not recovered in one year in hospitals. Identitovigilance is not always respected and implies a billing rejected. The average of the remainder amount
dependent on a patient is $40.
favorable to admissions digital administrative
(Opinion Way survey - December 2020)
Methodology
KYP, a complete solution
Trusted hosting
Luminess (formerly Jouve), a health data host, owns its data centers.
Automated control
The technology used makes it possible to verify the conformity and correspondence of the administrative documents filed.
A secure patient area
Patients have access to an educational online admission space designed to be accessible to all.
Entry assistance
Thanks to our expertise in document character recognition, forms are pre-filled to reduce patient registration time.
Technical deployment in 48 hours
Our teams are trained to deploy the turnkey solution within 48 hours.
KNOW YOUR PATIENT IS THE INNOVATIVE RESPONSE TO SOLUTION TO THE CONSTRAINTS RELATED TO ADMISSION
We work closely with establishments to meet their needs
Let's work together for:
Administration
Reduce the stress of administrative agents during peaks of activity
and concentration of people at the entry desk.
Invoices
Optimize your invoicing
thanks to better recovery.
Patients
Have better visibility
on admission files
patients.
Help you transform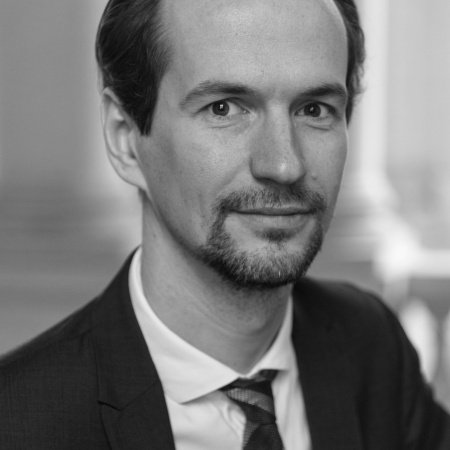 David Gruson
Director of the Health Program
Thibault Lanxade and Luminess chose to launch a health task force in July 2019. In less than two years, the Luminess teams have been able to design and widely distribute Know Your Patient, which has established itself as the reference AI solution. in helping to automate the admission of patients to healthcare establishments. This technology is revolutionizing On-Boarding within the healthcare system and considerably smoothing interoperability with establishment information systems thanks to our partners.